My 2021 Mustang Mach-E Select
by Rory S. Brown
Click here to return to the main web site.
My 8th Daily Driver Mustang: 2021 Mustang Mach-E Select AWD in Iconic Silver

I took delivery of my Mach-E on July 30, 2021 from Hallmark Ford, Surrey, BC Canada and built on May 7, 2021 with VIN: 3FMTK1SS1MMA33907. I want to thank Kal Hoonjan with the purchase of my Mach-E and getting me a great trade-in value of my 2019 Mustang Bullitt which made this deal possible. I have owned many vehicles in my life and it is time to go Electric!
68kWh Standard Range Battery – AWD with Rear Primary Electric Motor Engine / Secondary Front Electric Motor Engine.
Factory Options: All Wheel Drive and Comfort/Technology package Package which Includes:
• Ford Co-Pilot360™ Active 2.0 Prep-Package
• BlueCruise Prep Kit*
• Active Park Assist 2.0
• 360-Degree Camera with Split View and Front Washer
• Cargo Area Cover
• Hands-Free, Foot-Activated Liftgate (includes Power Liftgate functionality)
• Heated Front Row Seats
• Heated Steering Wheel
• Memory Driver's Seat and Sideview Power-Folding Mirrors
• 6-Way Manual Passenger Seat
*BlueCruise functionality expected 3rd quarter 2021CY. Separate payment for feature software required to activate full functionality at that time. BlueCruise is a hands-free highway driving feature. The BlueCruise Prep Kit contains the hardware required for this feature. Software for the feature will be available for purchase at a later date.
Email me if you have any questions about my current or previous cars: rorysbrown@outlook.com
If interested, I have some parts for sale here.

I'm a member of the Greater Vancouver Mustang Association. Click here to visit the web site

My 2021 Mustang Mach-E Select History:
(Click the thumbnail pictures below to see them full sized.)
---
December 25, 2021
My Mach-E's first White Christmas. White Christmas isn't exactly common here in Greater Vancouver. My stock wheels with Michelin Cross Climate SUV tires sure are great with the AWD in my Mach-E! I went out for a drive in the snow and it was prefect.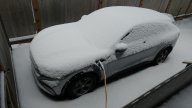 ---
October 28, 2021
My original factory ordered 2021 Mach-E finally showed up at Hallmark Ford on October 25th after the long delay due to the ship shortage. Since Hallmark Ford was able to dealer trade for me the exact Mach-E Package I ordered, I obviously don't need this one so they sold it to someone else now. I didn't have the ability to have pictures of my Mach-E when it arrived at Family Ford in Parksville, BC, so I thought I would take pictures of my ordered Mach-E when it arrived so here they are. You can see from the Windows Sticker that it is the same model and options.
---
August 25, 2021
One of the sacrifices I made by buying this dealer trade instead of waiting for my factory order to arrive was the front license plate holder was already installed. I purchased a Craigs Custom Mustang bracket for the Mach E and modified it to not interfere with the parking sensors so I wanted to use it. Kal Hoonjan from Hallmark Ford recommended Paramount Autobody in Abbotsford, BC to fill the holes and repainted the bumper part. What a fantastic job they did and I highly recommend them. They have a 4.9 Google rating! Here are some pictures during and after below:
---
July 31, 2021
My first change to the car was to install a new Take-off set of Original Ford 19" Wheels & Tires from a Mach-E Premium I found for sale for $1,500cdn locally. The Original Ford 18" Wheels and tires will have the tires replaced with Michelin Cross Climate All Weather tires for the winter. I will sell off the original Michelin All Season tires. Here are pictures below with the 19" wheels and tires installed.
---
July 30, 2021
I took delivery of my new Mach-E on July 30th at 5pm and here are some pictures below of how the car looked that day.
---
July 28, 2021
Lets start with a story. I factory ordered my 2021 Mach-E Select in Iconic Silver with AWD and Comfort/Tech Pkg on April 28, 2021. I was able to track the progress of the car through Ford's Online portal here. It was built on July 10th and initially showed a estimated delivery to dealer of Sept 13, 2021. This changed in a few days later to Oct 31, 2021. Then changed again to no eta. Apparently, the chip shortage has effected Mach-E's. On July 28th, I decided to go see if there was any updates on production at the dealer. As I was driving into Hallmark Ford that day, I viewed in the distance a unplated Iconic Silver Mach-E. I was curious as the website for the dealer and Ford didn't show anything in stock for that colour so I had to have a look. I noticed it had Mach-E 4 badging on side which means Dual Motor AWD as I had ordered. Then I walked to the front of the car to see if it had the front camera in the grille which it did. This means it has the Comfort/Tech Package I ordered. I eventually made it around to the window with the Factory Price Sticker and it was exactly the same as I ordered. The sticker showed the car was delivered to Family Ford in Parksville, BC on Vancouver Island and I was able to track its history with Family Ford so found out it was Ordered on March 15, 2021, a change was made to the Order on March 19, 2021, Vin created on March 25, 2021, built on May 7, 2021, and delivered to Family Ford on June 14, 2021 at 11:03am. It was dealer traded July 26, 2021 and was driven to Hallmark with over 400kms on it. The kms didn't bother me so asked if I can have this car instead of my factory ordered one. Hallmark Ford agreed so the car will be mine! I took some pictures below from that day.
---