My 2016 Shelby GT350
by Rory S. Brown
Click here to return to the main web site.
My 5th Daily Driver Mustang: 2016 Shelby GT350 in Race Red
This is truly a special car. Purchased April 23, 2016 from Brown Bros. Ford in Vancouver and built March 3, 2016 in the Flat Rock, Michigan plant.
Chassis No. G3453. Vin: 1FA6P8JZ3G5523601
Engine is a 526HP 5.2L V8 with a Cross Plane Crank and a 6 Speed Manual Transmission
Factory Options are the Technology Package and White with Black Over the Top Racing Stripes
Factory Accessories included Car cover and All Weather floor mats.
My Mods: Craig's Custom Front License Plate bracket (remove plate for pictures and Car Shows)
Black Rad Expansion Tank Cover
Ford Performance Parts Driver & Passenger Engine Oil Separators
50th Anniversary Front Floor Mats & Truck Mat
Trunk Cargo Net
Redline Hood Struts
Airaid SynthaMax Air filter
BlackVue DR650GW-2CH front & rear dash cams with battery backup
Protex Paint Protection Film with Lifetime Warranty
JLT Rock Blocker
Black Gorilla Wheel Locks 96643BDX
JLT Coil Covers painted in Red with White
10' x 10' Red with White/Black Stripes Show Tent for Chassis G3453

Email me if you have any questions about my current or previous cars: rorysbrown@outlook.com
If interested, I have some parts for sale here.

I'm a member of the Greater Vancouver Mustang Association. Click here to visit the web site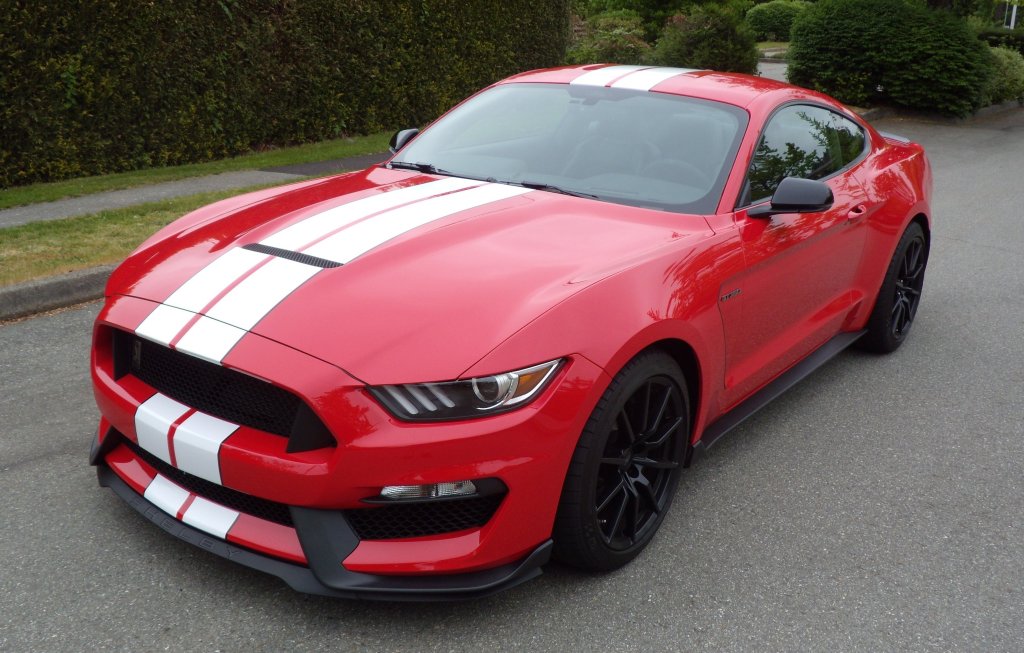 My 2016 Shelby GT350 History:
(Click the thumbnail pictures below to see them full sized.)
---
January 15, 2017 Update
I bought this car with the hope of the Vancouver, BC weather continuing for the past 2 years with snow for only half a day in that time period. You know "Global Warming"? I gambled and lost. Sadly, due to the weather conditions this year, I've been unable to drive my GT350 as a daily driver for almost 2 months so I sold it I've had to purchase another car as a daily driver and I won't have a $75k Cdn car sitting for a few months a year. I will look to find the right Mustang to take to car shows and only drive a few months a year.
---
August 21, 2016 Update
It was the 33rd Annual Greater Vancouver Mustang Association Mustang Roundup Show today in Langley, BC. I finished 1st place in the 2015-17 GT350 Class. Pictures below of my class:
Here is a video of the event by Chuck Gardner below:
---
August 1, 2016 Update
It was the 31st Annual Shelby & Mustang Show and Shine at Hallmark Ford today. I finished 1st Place in 2016 Shelby SVT Class. There was a Black R and an Avalanche Grey Track Pack car belonging to my friend Kal who works for Hallmark Ford. Pictures below:
---
July 10, 2016 Update
It was the GVMA Family Picnic & Novice Car Show in Langley today. Here are some pictures from the event.
---
July 9, 2016 Update
I attended the 3rd Annual Whalley's Corner Festival which is held outside my work place, Sprite Multimedia, in Surrey. It is a historic sight in Surrey. There was a car show and I won People's Choice award.
---
June 6, 2016 Update
I installed a set of JLT Coil Covers painted in Race Red with White painted letters.
---
May 29, 2016 Update
I finished 1st Place in 2016 GT350 Class at today's GVMA Spring Show at the Cascade's Casino in Langley. Some pictures below.
---
May 21, 2016 Update
Installed JLT GT350 Rock Blocker and Black Gorilla Wheel Locks 96643BDX.


---
May 19, 2016 Update
Luke and Mark from Protex installed their Paint Protection Film today on my front bumper, fenders, hood, roof, headlights, rear side panels in front of the rear wheel wells, and the black rear trunk lid panel to protect from scratches. I don't have to worry about rock chips now. Check the web site http://www.protexvancouver.ca/ The Product is well worth the price when considering the cost of the GT350. Protex Ultra is made by Xpel and is the same as Xpel Ultimate except Protex gives a lifetime guarantee for the product on the car no matter who owns it.
---
May 15, 2016 Updates
I installed the Front & Rear BlackVue Dash cams DR650GW-2CH and a bunch more pictures. I never get tired of looking out over the view of this hood from inside the car.
---
May 8, 2016 Updates
I installed the Redline Hood Struts and Airaid SynthaMax washable dry air filter.
---
April 30, 2016 Updates
I installed the 50 Years Floor mats and Trunk Mat with Cargo Net from my 2015 Mustang. I also installed the Ford Performance Parts Driver's side and Passenger side Oil Separators. I had to modify the Black Rad Coolant Expansion tank cover to fit passenger side Oil Separator.
---
As of April 23, 2016
I am now the proud owner of a 2016 Ford Performance Shelby GT350 as my new daily driver. This is my dream car ever since it was introduced and is worth every penny of the price. Here are some quick pictures on my first day with the car. My first mod on the car was moving the Black Rad Expansion Tank Cover over from my previous 2015 Mustang V6. Plus 10' x 10' Display Tent, Owners Oil Wrench kit, Owners Supplement kit with cast Flat Plain Crank, and Engraved Owners Portrait.
Here is a good video review of my friend Kal's GT350 below

---