My 2019 Mustang Bullitt
by Rory S. Brown
Click here to return to the main web site.
My Seventh Daily Driver* Mustang: 2019 Mustang Bullitt in Dark Hyland Green
*Daily driver for Spring & Summer

I took delivery New on March 20, 2019 from Hallmark Ford, Surrey, BC Canada and built in the Flat Rock, Michigan plant. VIN: 1FA6P8K01K5503288
My 2019 Mustang Bullitt Chassis No. K4428
Engine is a 480HP 5.0L "Coyote" V8 with a 6 Speed Manual Transmission.
Factory Options: No factory options (note: Canadian models come standard with MagneRide Damping System & Bullitt Electronics Package)
Installed mods: Ford Performance GT350 Blue Dry Air Filter by Airaid, Chrome Set of 20 Gorilla Wheel Lock nuts, Textured Black Coolant Tank Reservoir Cover & Brake Fluid Reservoir cover, JLT V3.0 Black Passenger Side Oil Separator, Craig's Custom Front License Plate Bracket.
Email me if you have any questions about my current or previous cars: rorysbrown@outlook.com
If interested, I have some parts for sale here.

I'm a member of the Greater Vancouver Mustang Association. Click here to visit the web site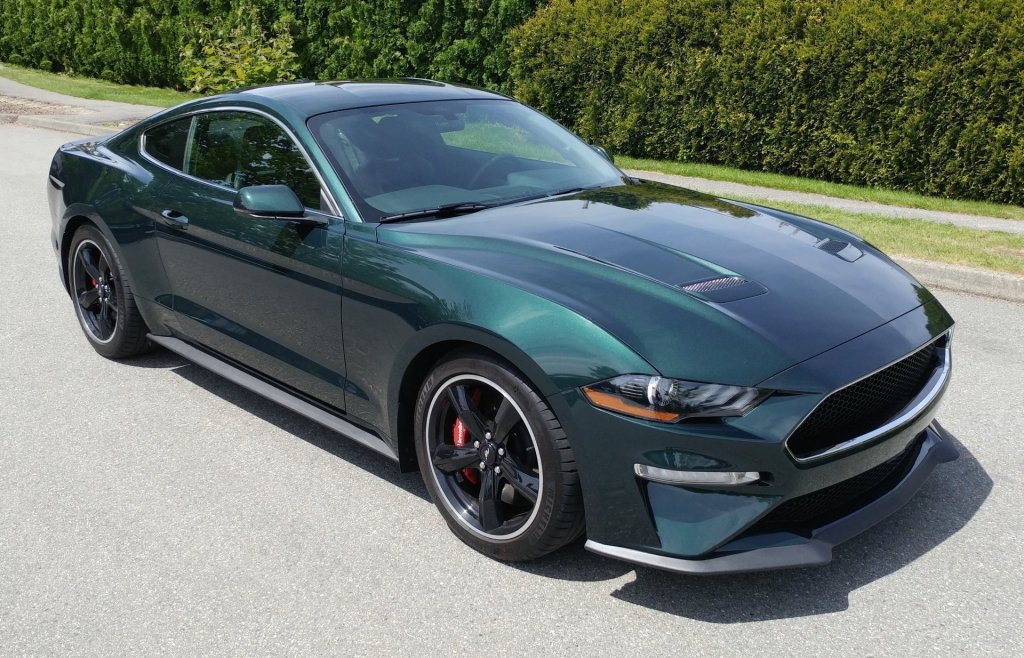 My 2019 Mustang Bullitt History:
(Click the thumbnail pictures below to see them full sized.)
---
April 10, 2019
The Black Textured Brake Fluid Reservoir cover by California Pony Cars arrived today so I installed it and updated my engine bay picture. I don't foresee anymore mods for this car.
---
April 4, 2019
I had Luke from Protex Vancouver installed their paint protection film by Xpel on the front hood, bumper, fenders, lower side rocker panels and front of rear fenders of my Bullitt. This the 3rd car they have done for me. While the car was lifted in the air, I took some pictures of the underneath of my car.
---
March 24, 2019
I installed the JLT V3.0 Black Oil Separator - Driver Side so here are some pictures. I also took some more pictures of the JLT V3.0 Black Oil Separator - Passenger Side, the black California Pony Cars Coolant Reservoir Tank Cover, and the Ford Performance Air Filter (M-9601-G) by Airaid.
---
March 20, 2019
I took delivery of my new Bullitt on March 20, 2019 at Hallmark Ford in Surrey, BC Canada. I delayed picking up the car because of a financial Incentive provided by Ford at the 2019 Vancouver International Auto show which started March 19th. While waiting, I installed the Ford Performance Blue Dry Air Filter by Airaid, Craig's Custom Front License Plate Bracket, and the Black Textured Coolant Expansion Tank Cover. I took these pictures at my usual spot below at about 7pm at night, immediately after driving off the lot to have some pictures to show. On the next morning, I installed the JLT V3.0 Passenger side oil separator and the 20 Gorilla Chrome Wheel locking nuts. All the mods I will do to the car can be completely reversed. I appreciate this car for what it represents so for me serious mods are out of the question.
---
March 3, 2019
I agreed verbally to this car with Hallmark Ford on March 3, 2019. It arrived at the dealer on March 11, 2019. See the pictures below:
---
Some of my Favourite 2019 Mustang Bullitt YouTube Videos
---