My 2015 Mustang V6
by Rory S. Brown
Click here to return to the main web site.
My 4th Daily Driver Mustang: 2015 Mustang V6 Hot Wheels Edition* in Competition Orange
*This is my personal interpretation of a Hot Wheels Mustang if Ford & Mattel decided to make one.

Purchased May 23, 2015 and built April 27, 2015 in the Flat Rock, Michigan plant. VIN: 1FA6P8AM7F5401357
Total Production of 2015 Mustang Fastback V6's is 21,380.
Only 1,903 (8.9%) of these came with MT82 Manual Transmission.
Only 1,137 (5.3%) Fastback V6's came in Competition Orange.
There was 12,232 (57%) Fastback V6's with the 051A Pkg.
Engine is a 300HP 3.7L V6 with a 6 Speed Manual Transmission.
My Factory Options: 051A package (18" Foundry Wheels/Power Driver Seat/Rear spoiler) & 3.55 Rear Axle Ratio.
My installed mods:
Ford Custom Graphics hood and side decals with matching wrapped roof panel,
Lighted Mustang Door Sills,
18" Aluminum Spare Wheel tire kit,
Cargo Net,
Raised Blade Type Rear Spoiler,
BlackVue DR650GW-2CH front & rear dash cams,
50 Years Anniversary Floor Mats & Trunk Mat,
Ford Racing K-Member strut support bar,
Painted lower rear valance Black Pebble finish,
Replaced Tri-bar Trunk Horse with Horse only Emblem,
Roush Cold Air Intake,
Redline Hood Struts,
JLT Oil Separator,
Borla Touring Cat Back Exhaust,
Hot Wheels Exterior Badges including Hot Wheels stitching on front seats,
USA EcoBoost Performance Package lower grille,
14" Front Brake Rotors & 4 Piston Brake Calipers from the GT model,
Black Coolant Reservoir Cover,
Ford OEM 3.7 V6 Engine Cover
I'm a member of the Greater Vancouver Mustang Association. Click here to visit the web site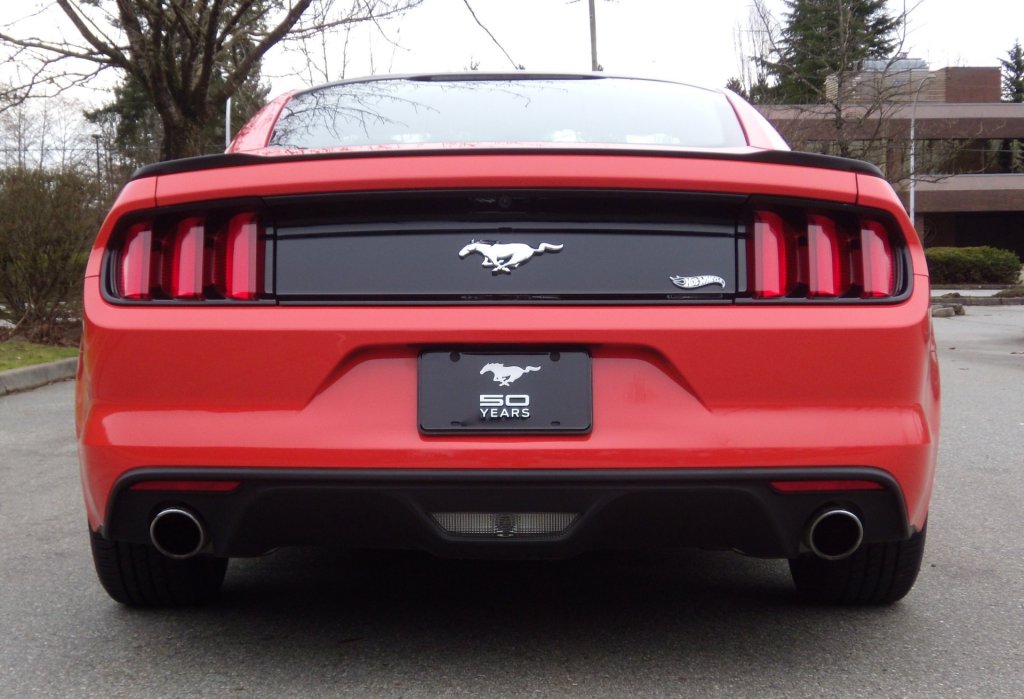 My 2015 Mustang V6 History:
(Click the thumbnail pictures below to see them full sized.)
---
Update as of April 23, 2016
I really enjoyed owning my 2015 Mustang V6 but I had a deal I couldn't pass up on to trade it in on a 2016 Shelby GT350.
---
Update as of March 4, 2016
I upgraded the brakes to the 14" rotors and 4 Piston Calipers from the Mustang GT model. I like how they fill these wheels. I also installed a Black Coolant Reservoir Cover I bought off eBay. I did find the black a little to gloss so I painted it a Matte Black with a can of Plasti-Dip I had. I modified the 2011-14 Ford OEM 3.7 V6 Engine cover to fit my 2015.
---
Update as of February 28, 2016
I added the Ford Racing K-Member to add structural rigidity by connecting the firewall and shock towers.
---
Update as of February 20, 2016
I did a Ford Racing theme to my 2012 Mustang V6 so I wanted to do a theme for my 2015 Mustang V6. I decided my Orange Colour was perfect to do a "Hot Wheels Mustang" so now I've finished the look so here are the pictures below. I have larger side Hot Wheels Badges and smaller front and rear badges. Also, I had Hot Wheels stitching done to the front seats. I also replaced the lower front grille with the Eco Boost Lower Grille from the USA Model Performance Package model.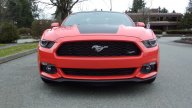 ---
Update as of November 11, 2015
I finally had the chance to take some pictures of my latest update of my roof wrapped in the same Black material as the hood decal. Also a few more other pictures.
---
Update as of October 4, 2015
I finally received my Borla Touring Cat Back Exhaust for my Mustang. Here are some pictures and a video.
---
Update as of October 2, 2015
Installed the JLT Oil Separator for my Mustang.
---
Update as of August 28, 2015
I've installed the Roush Cold Air Intake and Redline Tuning Hood Strut Kit
---
Update as of August 23, 2015
I changed my rear spoiler to the Ford Accessory Raised Blade Type Rear Spoiler which come prime for painting only so I painted it semi-gloss black to match the black on the car. Here are some updated pictures.
I also attended the 32nd Annual Greater Vancouver Mustang Association Show & Shine on this day in Langley, BC. There was 10 - 2015 Mustangs in the show so here are a few pictures.
---
Update as of August 3, 2015
I finished 2nd place in my class at the 30th Annual Shelby & Mustang show at Hallmark Ford today.
---
Update as of August 1, 2015
I've decided to replace the Tri-bar Pony emblem on the trunk with just the Pony one as on the Eco-Boost model to match the front grille Pony. I also painted the lower valance the pebble black look to match the side and front black splitter from the factory.
---
Update as of July 19, 2015
I've finally received the Ford Custom Graphics decals and installed them. I also installed some new high quality floor mats and trunk mat, lighted door kick plates, the BlackVue DR650GW-2CH front & rear dash cams, Envelope style Cargo Net, and the 18" Aluminum Spare tire kit.
---
Update as of June 3, 2015
My Craig's Custom Mustang front license plate bracket arrived and installed for everyday driving. No drilled holes in my front bumper so I can remove the bracket for car shows like the pictures above. Here is the link for those interested in buying one http://ccmustangbrackets.com/product/2015-mustang-bracket/
---
Update as of May 24, 2015
Second day of ownership and it was out to the first car show of the year for the Greater Vancouver Mustang Association's 34th Annual Spring Show at the Cascades Casino Resort in Langley, BC. Here are some pictures of the show. There were five 2015 Mustangs there. First one is an EcoBoost Mustang in Guard, the second is my V6 in Competition Orange, the third is a Ruby Red GT, the forth is a Race Red GT and the fifth is one of the only 1974 50th Anniversary Mustangs with this one being a GT in Wimbledon White and 6 Speed Manual. The owner of this car actually has 2 of them. Lucky guy.
---
Day One of my 2015 Mustang V6 May 23, 2015
I took delivery of my new 2015 Mustang V6 in Competition Orange from Mainland Ford in Surrey, BC, VIN: 1FA6P8AM7F5401357. It has the 6 speed manual and the options of 051A Package which includes 18" Foundry wheels, Power Drivers seat, rear spoiler. I also add the optional 3.55 Rear Axle Ratio. The car was built April 27, 2015 in the Flat Rock, Michigan Plant. It arrived a the dealership on May 21, 2015. It was PDI'd, cleaned and ready for my inspection on the day I took delivery on May 23, 2015. Here are pictures I took on day one of my ownership and the window sticker.
---